At River Street Collision in Dedham, MA estimates are always FREE, and we work with ALL insurance companies. Whether you are paying out of pocket or through your insurance company, we will work with you and them for a perfect, hassle-free experience every time.

Read more
WEEK DAYS:
08:00 am - 06:00 pm
SATURDAY:
By appointment only
98 River St,
Dedham, MA 02026

Body shop & Paint.
Collision car repair & antique car Restoration
Why us?
When you get an estimate on auto body work, you need it to be more than a guess. River Street Collision employs experienced expert technicians in an auto body shop serving Dedham Massachusetts for over 40 years. We know the work we do, and we do it all: collision repair, classic car restoration, auto glass repair, headlight replacement, frame repair, auto painting, detailing, and more.
We are able to give you the best price on quality work done correctly the first time. We offer our estimate for FREE because we are confident in the work and service we do. We offer FREE towing with collision repair because we care about our customers, we care about your vehicle, and we know we offer the BEST service at the BEST Price. We work with every insurance company to be sure your claims are filed right and hassle free.

Read more
Full-service in-house auto body shop
Licensed and bonded
We work with ALL insurance companies
Convenient location in Dedham, MA
Experienced, professional, trained staff
Expert classic & antique car restoration
We speak English, Spanish, and Russian
Award winning & environmentally friendly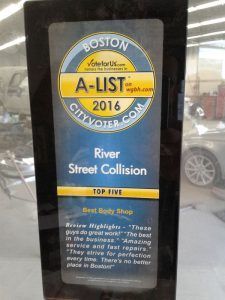 
Auto Body Repair
Our goal is your complete satisfaction with your auto body repair. We achieve that with expert technicians, 40 years of auto body service experience, and we care about our reputation and the quality of our work. Come to us for the Best auto body repair work the First time.
We complete the auto body repair work right the first time. Our consistent quality auto body repair speaks for itself.

Auto Paint
Our auto paint system is state of the art, and our people know what they are doing. Our system and our people exceed the manufacturer's specifications for crisp, perfect auto paint color every time.
We do the auto paint work right, with the best quality, using the best equipment, and we deliver the completed auto paint job in a timely manner.

Auto Glass Repair
We have the parts and equipment to do any auto glass repairs and auto replacements you need. From a tiny crack, to the expanding crack you left unrepaired for just a little too long, to a complete break, we'll have your vehicle back in shape with our auto glass replacement.
Auto glass replacement is as stress-free an experience at River Street Collision as is possible. We match and seal correctly, so your car is better than new. We complete the least expensive auto glass replacement possible, but always with quality.